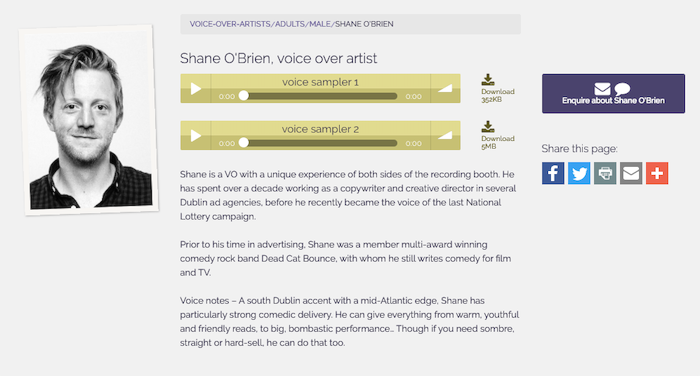 Another win for our Black Spots Campaign for eir. This time at the London International Awards. We got Bronze for Print: Use of Typography. We were also a Finalist for Design: Use of Typography.
Very happy to see our Black Spots campaign for eir picking up two silvers at this year's Kinsale Sharks.
Delighted our eir Black Spots campaign has won three awards at the Lisbon International Advertising Festival, as well as being shortlisted in another category.
Gold – Best Use of Press
Bronze – Press
Bronze – Craft, Art Direction
Shortlist – Design Typography
Meet the Celebrations. The first commercial from my first campaign for the National Lottery, which was also the last campaign I worked on before leaving Rothco… And I'm the voiceover on all these ads too.
Great to see that three campaigns I worked on in Rothco have been nominated in four categories in ADFX 2018 – Dairygold for FMCG, eir in IT/Telecommunications and Digital, and Fáilte Ireland in Leisure, Media and Entertainment and in New Launch. Fingers crossed.
https://marketing.ie/iapi-announces-shortlisted-entries-for-adfx/
Nice to see our Black Spots campaign for eir recognised at this year's Cannes Lions with a Shortlist in the Print & Publications category for Innovative Use of Print.
Also delighted for my buddies at Rothco who picked up an historic Grand Prix, a Gold Lion and a handful of Silver and Bronze Lions for their Amazing JFK Unsilenced Campaign. Congratulations Ste and Al!
After four great years, I'm sad to say I'm leaving Rothco. However, I'm really freaking excited to say that it's in order to make a feature film with Fastnet Films. Send in the Clowns has been granted production funding by the Irish Film Board! We'll be in production this summer, hopefully shooting later this year or early next year.
Delighted that our Black Spots campaign for eir is a finalist in seven categories at the New York Festivals!
Design: Craft (Art Direction)
Print – Traditional & Digital: Craft (Art Direction)
Avant-Garde / Innovative: Product & Services
Avant-Garde / Innovative: Avant-Garde Discipline (Design)
Best Use Of Media: Print (Magazine)
Print – Traditional & Digital: Products & Services
Best Use Of Media: Print
Results are out May 17th. Fingers crossed!
Our Black Spots print campaign won at the media awards. Silver for Best Collaboration between Agency and Media Owner.
While 2017 was undeniably a dumpster fire of a year for the world, it was a pretty good one for me at work. I moved back to Rothco from Guns or Knives. Our new campaign for eir won at Eurobest. My project for Repeal the 8th with Amnesty International picked up Gold for Creative Bravery in Kinsale. And we won the Lottery pitch. So this is one second every day from 2017 with music from Tom Petty and appearances from lots of my friends… and my dog Brambles. So much Brambles. Happy New Year Everybody!
Dead Cat Bounce areone of the Peter Crawley's Theatre Highlights of the week in The Irish Times today. "A various-times-in-a-lifetime opportunity to relive their rather sublime material, from the accelerating misadventure of Switzerland to their Sondheim-baiting Famine! The Musical. Let's go."
Tickets still available for Monday night at www.project.ie
That's not us in the picture in case that's not clear…
Big news in Rothco today. We've been acquired by Accenture Digital. More details below…https://newsroom.accenture.com/news/accenture-to-acquire-irish-creative-agency-rothco.htm
Dead Cat Bounce have released a Live DVD – You're Welcome for the Music. All hits. No shits. Buy it now at https://deadcatbounce.ie/
Next